These Messages In Bottles Will Warm Your Cold, Dead Heart
by N/A, 6 years ago |
N/A
---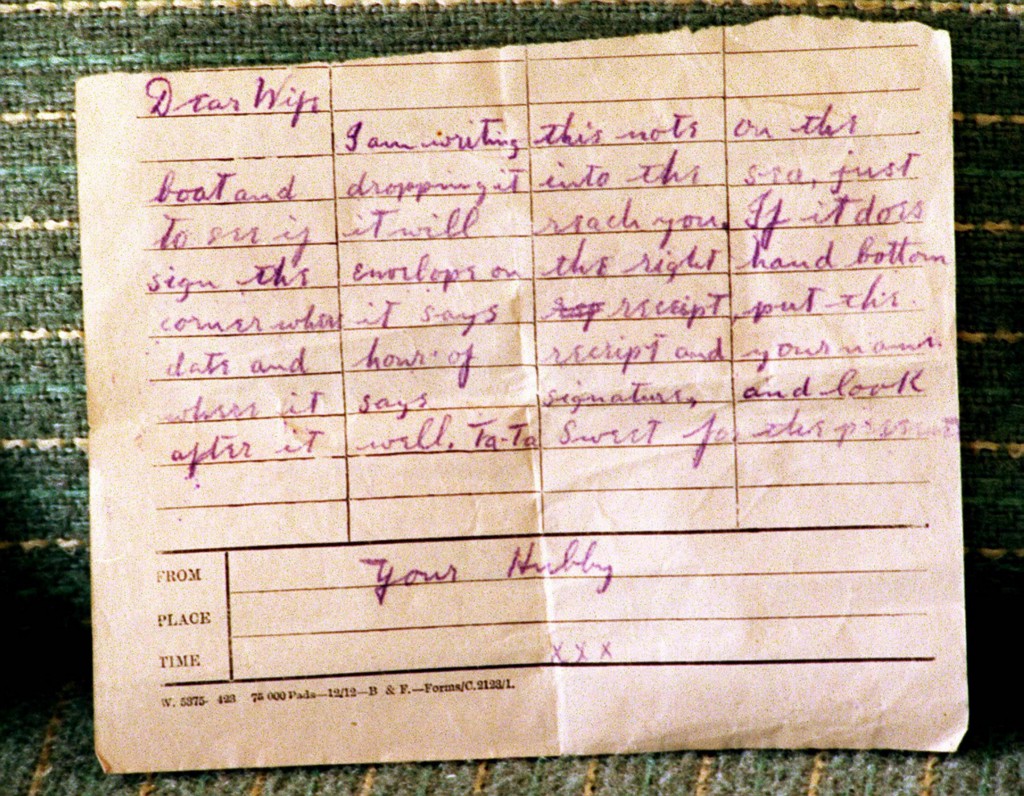 Read these when you've given up on love.
We've been suckers for the drama of a long-distance relationship long before the internet. We began using HAM radios at the turn of the last century. In Victorian times it was global telegraph, and pen pals are as old as the written word. And don't forget the message in the bottle.
Bottled messages gained their mystique through literature. Edgar Allen Poe's "MS. Found in a Bottle" (1833) and Charles Dickens' "A Message From the Sea" (1860) ignited a popular communications craze that persists today. People have put messages in bottles for all sorts of reasons, from the scientific observation of ocean currents to letting people know a ship was sinking with little chance of anyone surviving. But the bottled messages that have taken greatest hold with the public imagination may be love letters.
Here are three tales of love forged across oceans—literally—that will make even the most jaded of lovers believe in the power of the heart.
Frank Hayostek & Breda O'Sullivan
It was late December 1945, and World War II was finally over. American GI Frank Hayostek was aboard a "Liberty Ship" bringing the boys home. When a storm prevented the ship from reaching New York on Christmas Eve, a forlorn Hayostek scribbled a holiday greeting, stuck it in an aspirin bottle along with his home address, and dropped it into the rough waves. The missive read:
"Dear Finder, I am an American soldier, 21 years old; just a plain American of no wealth but just enough to get along with. This is my third Christmas from home."
Eight months later, 19-year-old Breda O'Sullivan found the bottle on a beach in Dingle, Ireland. Breda wrote a reply, which was received by Frank's mother. Breda and Frank began a correspondence. Determined to visit Breda, Frank saved $30 a month for seven years (seven years!!!) until he could pay for the flight.
Before leaving in August 1952, he told his story to a friend, who wrote a local news piece on it, which was picked up by news wires and Time Magazine. Frank arrived in Dublin, astonished to be met by a flock of reporters.
After visiting Breda daily for two weeks, Frank returned home, apparently quite smitten. They never saw each other again but continued their correspondence for 13 years, even after Frank married someone else in 1958. The next year, Breda mysteriously stopped writing. Frank's wife died in 1965.
Decades passed. In 2009 Frank's son Terry asked his dad if he ever wondered what had happened to Breda. Frank said yes. To Frank's surprise, Terry journeyed to Ireland and tracked Breda down. She'd stopped writing because she, too, had married. Frank died a few months later. He asked his gravestone be inscribed:
"Frank Hayostek met in Tralee, Ireland, with Breda O'Sullivan who found a message-laden bottle he had tossed from a Liberty ship seven years before."
"The letters were charming and between the lines I felt he was quite smitten by her, particularly after he'd met her," says Peter Mulryan, who produced an RTE One radio documentary on the story.
Breda, who preferred privacy and said she'd have left the bottle on the beach if she'd known it would cause a media circus, died about a year later.
Ake Viking & Paolina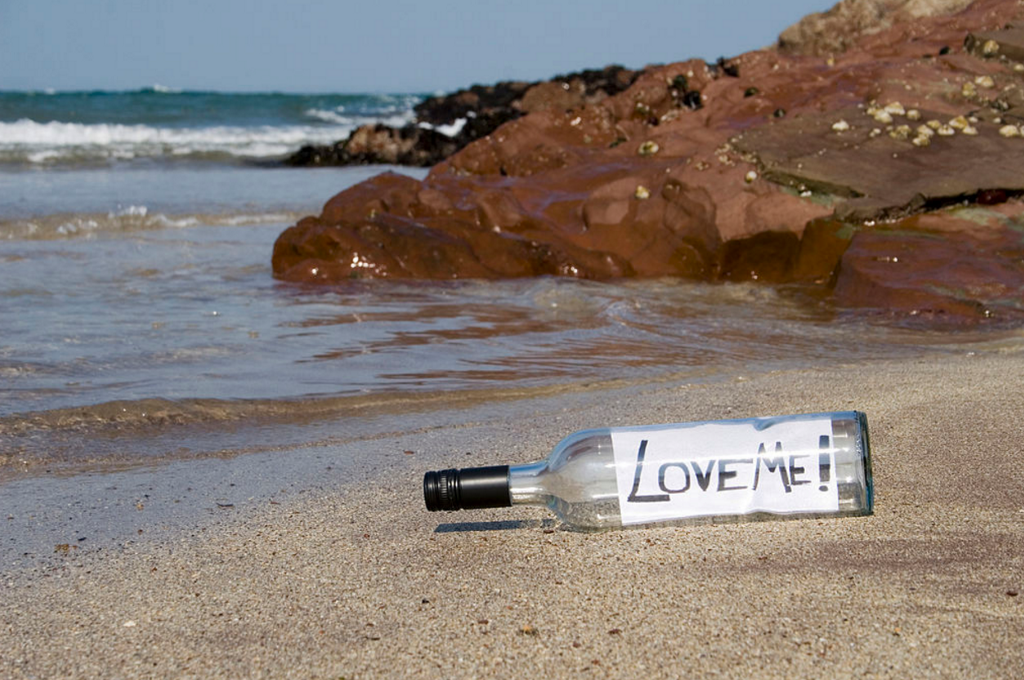 A Swedish sailor got a happier ending. On a sea journey in 1955, Ake Viking wrote a description of himself, along with his address, and addressed it, "To Someone Beautiful and Far Away." He popped it into an empty bottle of aqua vitae (strong liquor) and threw it overboard. Two years later, he came home from another journey to find a letter from a 17-year-old Sicilian girl named Paolina. Her fisherman father had found the bottle and given it to her, and a local priest translated it with a dictionary.
In her reply, Paolina said:
"He [the priest] read me your charming letter. I am not beautiful, but it seems so miraculous that this little bottle should have traveled so far and long to reach me that I must send you an answer."
The two began writing letters, and after Paolina turned 18, they were married. The media, including The American Weekly, covered the nuptials with great fanfare. You can see pictures and a newsreel of the wedding in the Sicilian city of Syracuse, which attracted a crowd of thousands.
Thomas & Elizabeth Hughes
This last love story spans the ages. British Private Thomas Hughes, 26, was crossing the English Channel to fight in France after the outbreak of World War I. Hughes wrote a spunky letter to his wife, stuffed it into a ginger beer bottle and cast it over the side:
"Dear Wife, I am writing this note on this boat and dropping it into the sea just to see if it will reach you. If it does, sign this envelope on the right hand bottom corner where it says receipt. Put the date and hour of receipt and your name where it says signature and look after it well. Ta ta sweet, for the present. Your Hubby."
Two days later, Private Hughes was killed. His message traveled undiscovered for most of a century, until fisherman Steve Gowan fished it out of the River Thames. In a cover note, Hughes had asked the finder to "kindly forward the enclosed letter and earn the blessing of a poor British soldier on his way to the front this ninth day of September, 1914."
It was 1999. Mrs. Hughes had died 20 years earlier.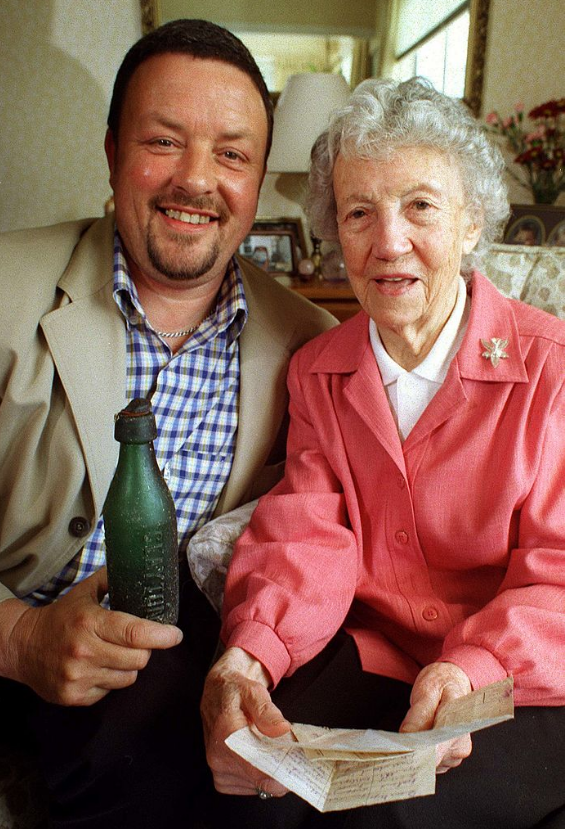 Gowan's find was covered in media reports, which reached Emily Crowhurst, Hughes' daughter, then living in New Zealand. She had been two at the time of her father's death. Crowhurst, then 86, pleaded with Gowan to give her the letter, which he'd thought to keep as a souvenir. When he delivered it to her in Auckland, she was overcome with emotion, saying, "It touches me very deeply to know…that his passage reached a goal."
Crowhurst said the letter had filled a void in her heart. Hughes said he was "pleased to have been the postman."
So next time you're at the beach, keep your eyes peeled. Maybe you'll find love in a bottle.