We'll Soon Live In A World Where Burritos Have Wings
by dee_fabbricatore, 6 years ago |
N/A
---
Your favorite food is cleared for takeoff.
How many times have you sat home alone, longing for a burrito to magically fall into your lap? Google's parent company Alphabet Inc. totally gets your struggle. That's why they've partnered with Chipotle to test
burrito drone delivery
. I repeat: burrito. drone. delivery.
We were promised flying cars, and instead we got flying burritos... I'll take it. https://t.co/nQLIob0aTZ — @rsg
It's simple, really. Just order a burrito on a special kiosk and watch as it's flown in and lowered to the ground via a tether. (I've had this
exact
dream, scene-for-scene, many times before.) They're currently testing in Blacksburg, Virginia, on Virginia Tech's campus. You can check out
a video of it all in action
, which shows a drone dropping the package a little too aggressively for cargo as precious as a burrito. I certainly wouldn't want to see guacamole and chips treated that way.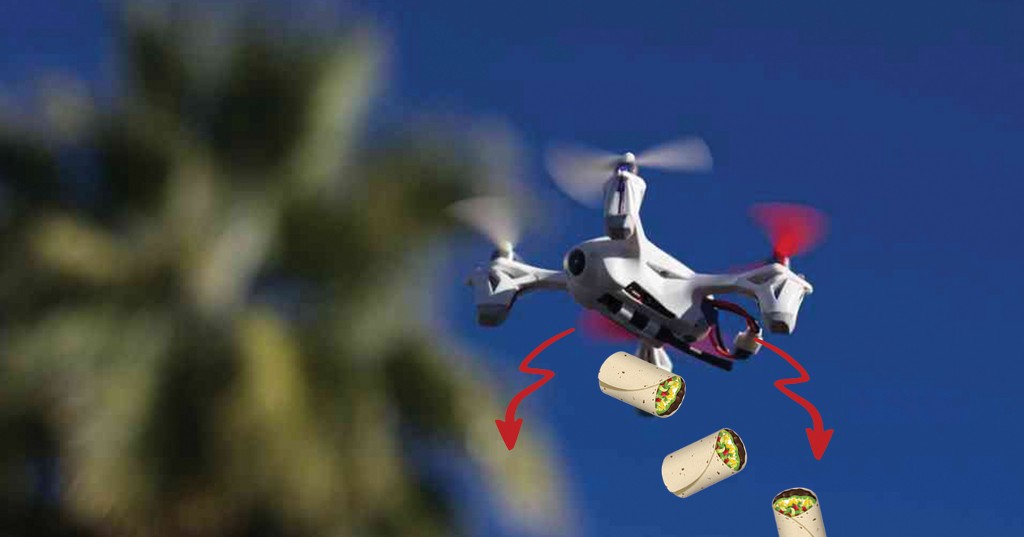 Now that the FFA has cleared
commercial use of drones
, companies worldwide are experimenting with drone delivery. In New Zealand, Domino's is testing
actually pizza deliveries to customers
. What does this mean for the future of takeout? Will we soon live in a world where pizza grows wings and swoops down from the heavens from whence it came? The future is awesome.